Wire Rope Clips


Failure to read, understand, and follow manufactures instructions may cause death or serious injury
Crosby
80% Termination
Efficiency for
Sizes shown

Sizes 1/8"-2 1/2" have forged bases
Galvanized to resist corrosive and rusting
Product identification PIC and CG
(Material tractability)(Crosby Group)
Size
Number of Clips
Turnback Length (in)
Torque
FT-lbs
Weigh per 100
( lbs )
1/8
2
3 1/4
4.5
6
3/16
2
3 3/4
7.5
10
1/4
2
3 3/4
15
19
5/16
2
5 1/4
30
28
3/8
2
6 1/2
45
48
7/16
2
7
65
78
1/2
2
11 1/2
65
80
Columbus McKinnon
Big Orange

80% Termination
Efficiency for
Sizes shown
Size
Number of Clips
Turnback Length (in)
Torque
FT-lbs
1/8
2
3 1/4
4.5
3/16
2
3 3/4
7.5
1/4
2
3 3/4
15
5/16
2
5 1/4
30
3/8
2
6 1/2
45
7/16
2
7
65
1/2
3
11 1/2
65
Efficiency ratings for wire rope end terminations are based upon the wire rope
manufactures breaking strength. The efficiency rating of a properly prepared loop
or thimble-eye termination for clip sizes 1/8" thru 5/8" is 80%.
The number of clips shown (see table) is based upon using RRL or RLL wire rope
6 x 19 or 6 x 37 Class, FC or IWRC; IPS or XIP.
The numbers of clips shown also applies to rotation resistant RRL wire rope.
8 x 19 Class, IP, XIP and rotation resistant RRLwire rope,
19 x 7 Class IFS, XIP.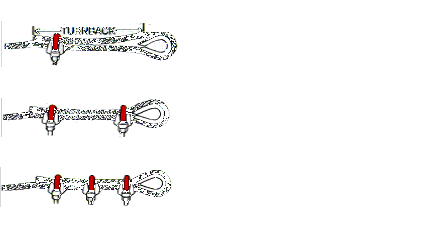 In Accordance with good rigging and maintenance practices
the wire rope end termination should be inspected periodically
for wear, abuse and general adequacy.
If you have something that this page is missing or have some good ideas how to improve this page feel free to contact me at info@rigging.net
---
Page maintained by Peter Created: 7/24/96 Updated: 11/17/03